Submit cool t-shirt art to Jinx! Win awesome prizes!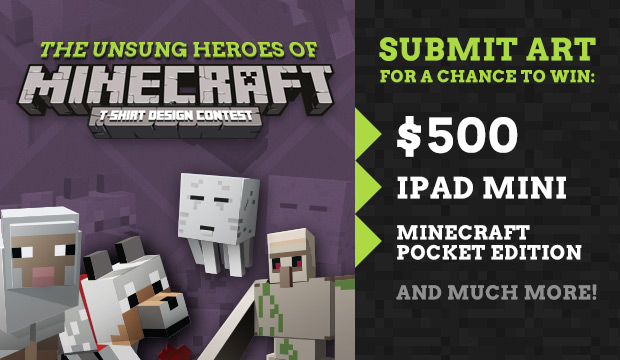 The good chaps at J!NX are back with another competition! This time they're looking for t-shirt illustrations that celebrate the "Unsung Heroes of Minecraft." Forget about Creepers and Steve for this one: it's about ocelots, iron golems, and sheep; the smaller guys that sometimes get forgotten.
You'll need to submit your entry before June 4th, and follow the guidelines listed on Jinx.com to qualify. Do that successfully and you could be in the running for these generous prizes:
5 Grand Prize Winners will each get:
$500 Cash
iPad Mini
Minecraft Pocket Edition
5 Winning Design Contest Tees
J!NX Minecraft Prize Package:
1 Minecraft Lego Set
10 Runner Up Winners will be awarded with:
$100 J!NX Minecraft Gift Code
1 Winning Design Arcade Tee of Choice
2 Minecraft Tees of Choice
That's it for now. Check Jinx.com for the details, and get creative! Have a good day!
Owen - @bopogamel