Minecraft snapshot 14w04b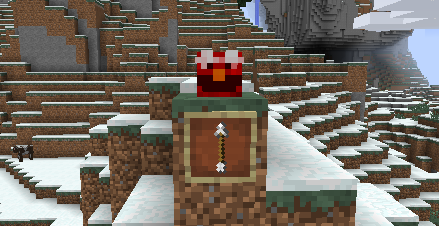 Update: Snapshot 14w04b has been released to fix some bugs:
Snapshot. Snapshot snapshot snapshot. Snapshot's snapshot. Snapshot snapshot snapshot snapshot. Snapshot? Snapshot!!
Notable additions for survival:
Item frames can give off a signal detected by Comparators.
Lots of changes to villager AI. Some of them now actually do stuff!
Looting now gives 1% chance of rare loot per level
Iron Golems/Zombie Pigmen now drop items on normal kills
You can now spawn Iron Golems/Snow Golems/Withers with dispensers + pumpkin/skulls respectively
Bushes can now catch fire
Buttons can now be placed on ceiling/floors
Seecret Changes
Balancing tweaks!
Notable additions for mapmakers:
New command /particle to show particle effects in the world. It can also be relative to entities. Example: /particle lava ~ ~1 ~ 1 1 1 0.5 2 @e[type=Chicken]
Added the ability to filter block types in the /fill command, but only if it's used to fill in replace mode with "normal" blocks. It does not work when filling with block entities. Syntax: /fill replace [filterBlockName] [filterData]
Fixed most of the remaining issues with the /clone command, for example chest orientation.

We have a new bug tracker website! Please report any and all bugs you find in Minecraft to bugs.mojang.com. If nobody reports a bug, we can't fix it!

Bugs fixed in this snapshot:

To get snapshots, open your launcher and press the "New Profile" button. Call it "snapshots" and check the box saying "Enable experimental development snapshots" and save. To switch to the normal version, you can select it in the dropdown at the bottom left corner of the launcher. Back up your world first or run the game on in a different folder (See the "new profile" dialog). Snapshots can corrupt your world.

Cross-platform server jar: https://s3.amazonaws.com/Minecraft.Download/versions/14w04b/minecraft_server.14w04b.jar

Report bugs here:

// The Minecraft and Minecraft Realms teams