The code-wizards at Oxeye Games Studio have outdone themselves. We present… BET ON COBALT.
Team Strike is one of Cobalt's most intricate modes. And it makes for a fantastic spectator sport, even when it's played by bots. With that in mind we've set up a two week twitch stream where teams of bots battle each other to the death. TWO WEEKS of awesome.
But what's a sport without a little wager and real-life prizes? Pointless, that's what.
HOW DO I BET ON BET ON COBALT?
This is where things get really exciting. BET ON COBALT gives you the chance to bet Volts (which have no real money value) on the outcome of each match. you start with 1000 volts, and will earn even more just by watching the stream. It's up to you whether you keep things simple and just vote on the winning team of each round, or go pro and spread-bet on specific happenings in the match, like Multi-kills or Aces.
Betting is relatively simple. Before a round begins, bot_cobalt will state the odds. Enter your bet in the public chat, or whisper it to bot_cobalt in between each round. Once the round is over, winnings are paid out.
You can check your funds at at time by typing "!v" into the chat.
BETTING ON A TEAM TO WIN A ROUND
To bet on an individual team, type !bet into the chat followed by the team name, then the amount. For example, to bet 50 volts on blue winning the round, type "!bet blue 50". You can also bet with the first letter of your chosen team. For example: "!bet b 50".
You can also bet a percentage of your current balance on the outcome. To bet 70% of your winnings on the blue team type "!bet blue 70%".
BETTING ON ACHIEVEMENTS (THE WAY OF THE PROFESSIONAL)
Achievements can help you get rich quick. The chances of them happening are slim, but the odds are massive. Risky but lucrative.
You don't need to pick a team for special events. If either team earns an achievement you'll get the volts. There are four achievements.
MULTI - When a bot takes out two others in one shot. This normally happens with a well-placed grenade.
ACE - When one badass bot takes out the entire team.
WHOLE - When every bot of either survives the round.
COMBO - When one bot takes out two enemy bots in quick succession.
For example, to bet 500 Volts on either team scoring a combo in the following round, type "!bet COMBO 500"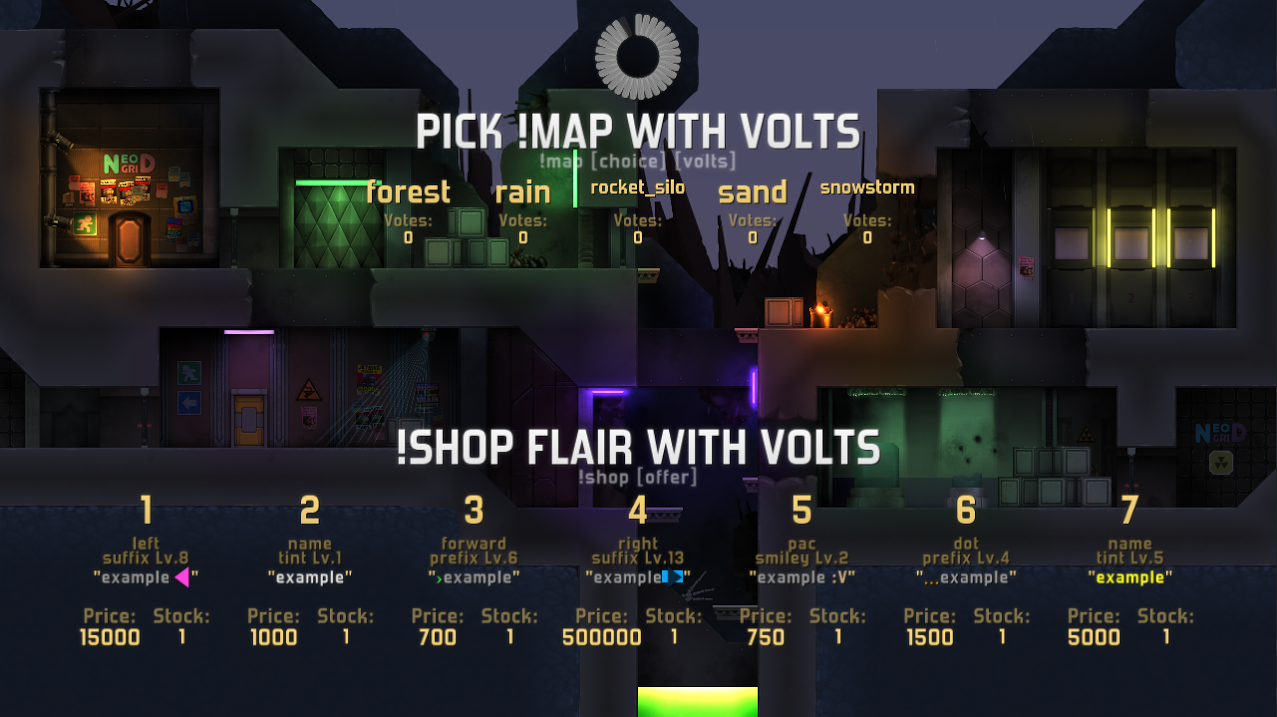 BUT WHAT DO I DO WITH MY HARD-EARNED VOLTS? DID YOU EVEN THINK OF THAT?
Yes, we did think of that, thank you very much. You can spend your volts on loads of cool things.
PIMPING YOUR PROFILE
After each match the shop generates seven flairs with limited stock. There are five kinds of flair you can purchase, but you can only have one of each kind. Each flair has a unique value.
*prefix adds a cool thing at the start of your name
*suffix adds a cool thing to the end of your name
*tint gives your name a cool colour
*smiley adds a smiley after your name
*jingle means that your specific jingle plays if you're the top earner in an individual round
To purchase a shop flair type in it's offer number after ishop or !shop. For example, to purchase item 1, type "!shop 1" into the chat.
CUSTOMISING BOTS IN REAL-TIME
You can name a bot for the entirety of one match. It costs 500 volts. For example, to name a bot BOPO, type "!name BOPO" into the chat.
You can also make a random bot from each team say something during the match. For example, to make a bot say BOPO PWNS, type "!talk BOPO PWNS" into the chat.
At the end of each match, users can vote on the next map. To vote on BOPOTOWN as the next map, type "!map BOPOTOWN".
ENABLING SPECIAL EVENTS
Each round features a special event that will trigger if enough Volts are donated. Shrewd BET ON COBALT players will understand how special events could influence the chances of Achievements triggering. To donate 600 Volts, type "!fund 600" into the chat.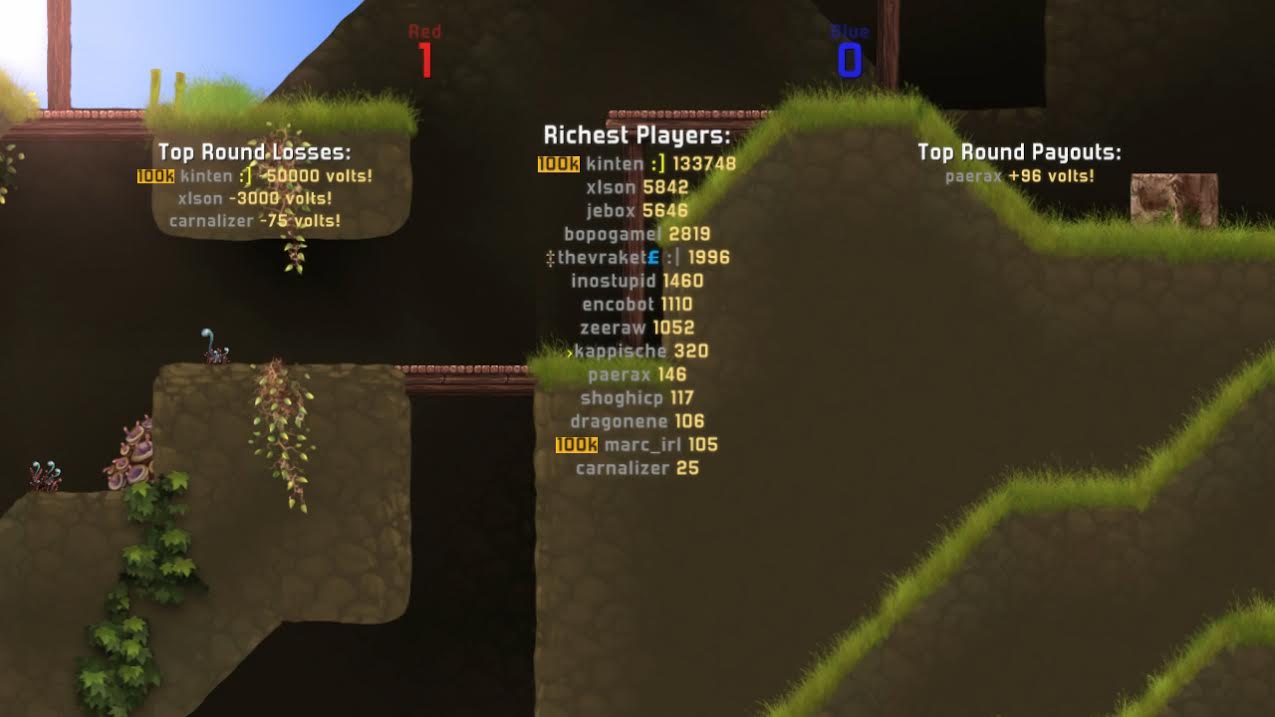 OK - I HAVE MORE VOLTS THAN I KNOW WHAT TO DO WITH. WHAT'S THE POINT?
Glad you asked. We're giving REAL-LIFE prizes to the top winners on February 2nd at 12pm CET. That's Cobalt's release date, in case you didn't know.
THE RICHEST PLAYERS
The top five richest players will get a Cobalt game code on their platform of choice, and a signed cobalt postcard. The players in position 6-10 on the rich list will get a Cobalt game code for their platform of choice.
THE COOLEST PLAYERS
The top five players with the most valuable flairs on release day will get a Cobalt game code on their platform of choice and a signed Cobalt postcard. Players in positions 6-10 on will get a Cobalt game code on their platform of choice.
THE 100K CLUB
Any player who reaches 100,000 Volts will be automatically become a member of the 100K club. All players will be entered into a raffle on release day and will have the chance of winning 1 of 100 Cobalt game codes or 1 of 15 signed Cobalt postcards.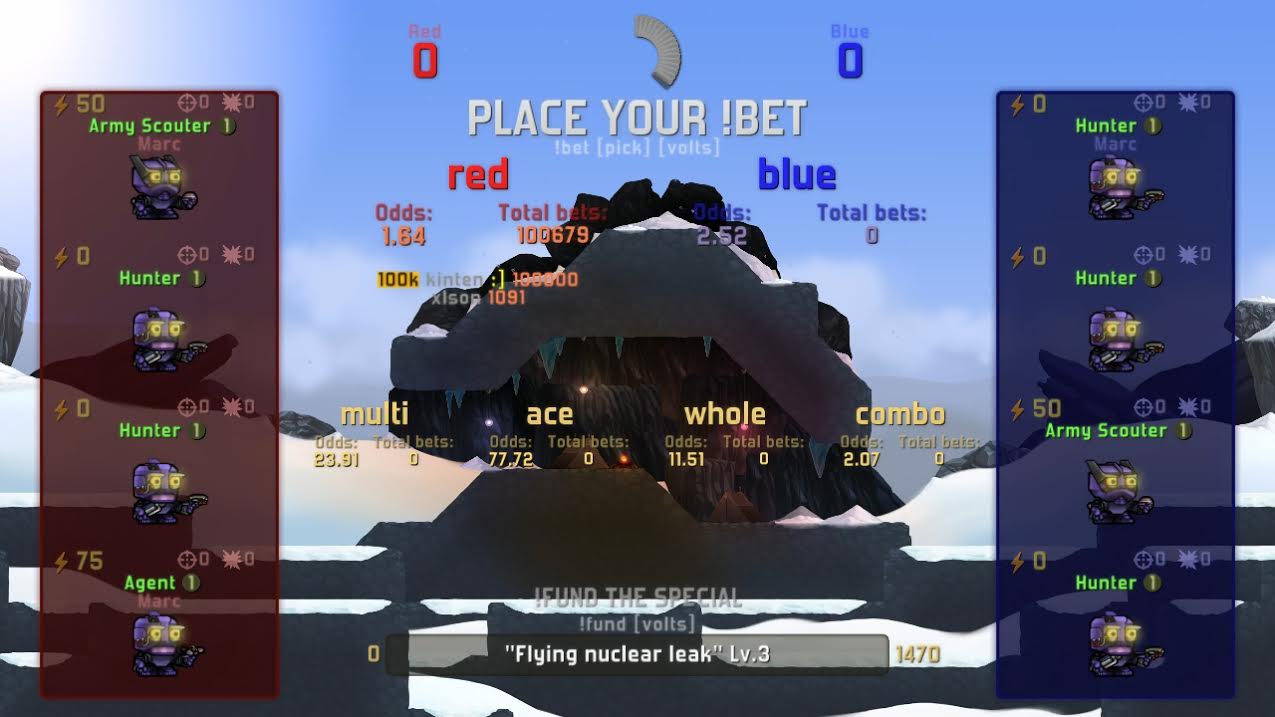 A MILD DISCLAIMER
BET ON COBALT is for fun, free, and will probably break at some point. We refuse to be sued for anything to do with BET ON COBALT. Don't be sad if you lose, but feel free to gloat if you win.
Have fun!
Owen - @bopogamel